Providing universal literacy in developing countries
Jolly Futures is an exciting and far reaching programme. It delivers profound improvements in the ability to read and write to children in state schools in developing countries. It is giving them the basis for a much more fulfilling life.
Our Aim: It is children in state schools in developing countries who are most vulnerable to illiteracy. Jolly Futures provides a high quality literacy teaching programme for entire state school systems in these countries so all children can be literate early in primary school.
We provide: Every child in the first year of school is provided with write-in Jolly Phonics Pupil Books, while their teacher is given extensive training, along with a Jolly Phonics Teachers' Book. Jolly Phonics is a very enjoyable commercial programme, used in schools around the world to achieve amazing results. In Jolly Futures this programme is provided for free.
Language: Jolly Futures provides literacy just in English. This opens the world of information, travel and future job opportunities.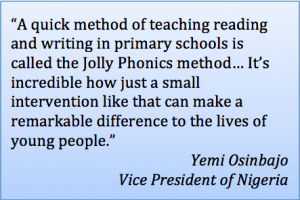 Partnership: Jolly Futures is a partnership between the publisher, Jolly Learning, and those who deliver it, notably Universal Learning Solutions (ULS). While Jolly Learning provides the materials for free, and pays the cost of the trainers, our Delivery Partners have other costs to meet. These include the venue and refreshments at the training, mentoring and motivation of the teachers, training of trainers and engagement with education officials. This is funded either by the governments concerned, or by charitable donations.
Jolly Futures is provided by an offer in three parts. It is open to state school systems in sub-Saharan Africa and the Indian subcontinent:
1. Pilot Offer: The aim of the pilot is to demonstrate what can be achieved by existing state schools and teachers, with just a change in methodology. The purpose is to win support for adoption, by government and the community. Each pilot is limited to just six schools, with one class in each. The pilot is evaluated, and the results published.
2. Adoption Offer: The adoption provides for every school in a country, or region. Typically each adoption is for several thousand schools and for 100,000 or more pupils. The materials have been printed locally for each of the five large scale adoptions to date (in Nigeria, Cameroon, Ghana, Pakistan and India). Training is almost always provided by Jolly Phonics Trainers from within the country.
3. Sustainability Offer: The adoption is provided for one year only. So for subsequent years the rights are provided for reprinting the Jolly Phonics Pupil and Teachers Books, for use by state schools, with no royalty payments, and no time limit. This offer has been accepted in Nigeria and Pakistan. By the time this phase is reached, it is expected that several local Jolly Phonics Trainers will have been developed to provide continuity of training.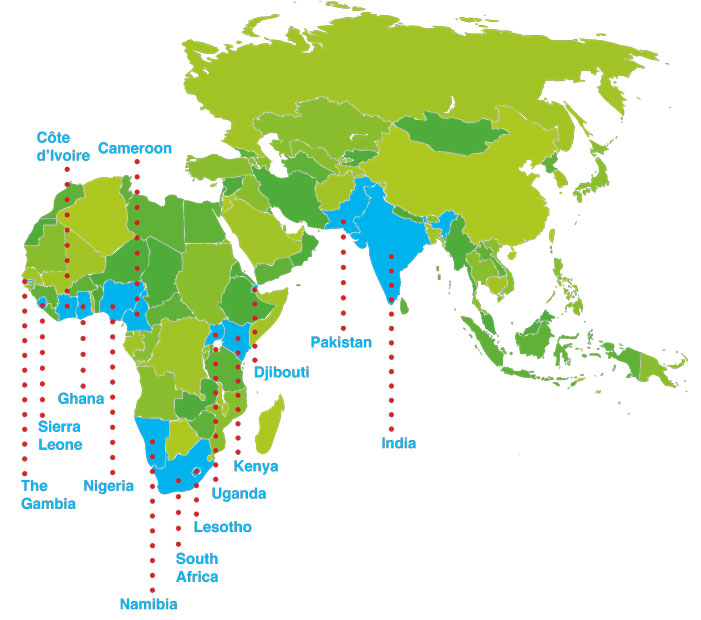 Reach: In Nigeria, Jolly Futures has been adopted in all 36 states. Over 43,000 teachers and head teachers have been trained, and the teaching transformed for over 2.1 million pupils. In Ghana, Jolly Futures is being adopted in 116 of the 216 districts. Training will be given to 10,000 teachers, and the teaching transformed for 250,000 pupils. In Cameroon, Jolly Futures has been accepted for all the country. The first provision has been made in four cities. In Pakistan, Jolly Futures is being adopted in Khyber Pakhtunkhwa, one of the four provinces. Training will be given to 45,000 teachers and the teaching transformed for 500,000 pupils. In India, Jolly Futures in being adopted in six districts in Tamil Nadu state. Training will be given to 10,000 teachers and the teaching transformed for 150,000 pupils. There are pilots of Jolly Phonics, in this programme, in 10 other countries.
Value: Jolly Futures has provided 4,677,000 books to date, with a retail value of £9.1m. The training provided is harder to value, but would be of a similar order.
Management: The delivery of Jolly Phonics relies heavily on local teams, with training by local trainers. It is very effective, with high levels of motivation, working on a large scale, and with low costs.
Contact us: We welcome contact:
Jolly Futures, Christopher Jolly: chris@jollylearning.co.uk
Nigeria, Universal Learning Solutions: Patrick Uzu: patrick@universallearningsolutions.org
Cameroon, Universal Learning Solutions: Louise Gittins: louise@universallearningsolutions.org
Ghana, Ingit Education: ingiteducation@gmail.com
Pakistan: Tahira Sheikh: tee.irfan@gmail.com
India: Education International Foundation: sv_gomathi@rediffmail.com
East Africa, Education Matters East Africa: Sian Summers Issa: sian@educationmatters.co.ke
Photos from top to bottom: Teachers in Khyber Pukhtasnkhwana, Pakistan, with their certificates after training by Sadia Mailk (in red at the back); Children with their Jolly Phonics Pupil Books; Children doing the Jolly Phonics Action for 'n'; Senior Officials in Zamfara, Nigeria, with ULS staff, at the Jolly Phonics Centre there.