In the UK the National Curriculum came into effect from September 2014. This document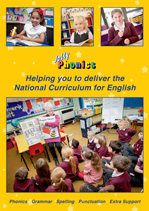 shows you how Jolly Phonics aligns with the curriculum for English and how it can help you to deliver the curriculum.
If you are reading the document on-screen, please download this version of the document.
Alternatively, you can email info@jollylearning.co.uk to request a FREE printed copy.